The Village of Gresham Welcomes You
An ice rink in downtown Gresham!
Annette Ejnik, owner of Pa's Ice Cream Shoppe on Main Street purchased the old, rarely used volleyball court across the street from Pa's.The Fall leaves had fallen and she wanted to make use of the property for winter activities. The idea of a skating rink popped up and with the help of a few people she made it happen in just a few days.
Gresham Advancement Association got on the band wagon and purchased a huge tarp that serves as a liner for the rink, The Villiage of Gresham leveled the rink site and the the Gresham Fire Department helped with, "Flooding the pond". Local resident Darvin Pieper agreed to plow the snow as needed.
Annette said, "It was like the whole community came together to make it happen –"Prest-O, Change-O"!
Brian Carroll, Village Administrator was delighted with the idea of an ice rink. He said, "It's going to be great to see folks skating in downtown Gresham. What a blast!" He went on to say that " Now we just need  to be patient and wait for good ice."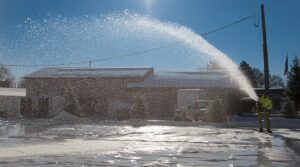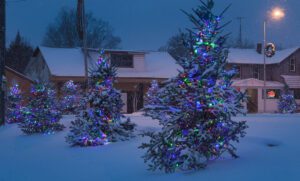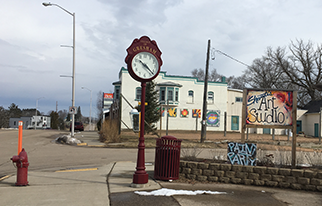 About Gresham
Gresham, Wisconsin, located in Shawano County, is an area of extreme scenic beauty where Whitetail Deer, Bald Eagles, Blue Herons and Largemouth Bass share their habitat with residents and tourists from all over the world. The waters of Red River wind through Gresham forming the Upper and Lower Red Lakes, a beautiful sight. The power of the river is utilized by the municipality through the hydro-plant that generates 22% of the electricity to the Village, a unique feature of Gresham, Wisconsin. Seven smaller lakes, trout streams and woodlands surround Gresham wrapping it in a package of natural beauty.
Village of Gresham Hours of Operation

Monday-Thursday:
8am-12pm
1pm – 4pm


Friday:
8am – 12pm


3rd Tuesday at 6:00 pm
at the Village Hall
801 Main Street
Gresham, WI 54128

PO Box 50
801 Main St.
Gresham, WI 54128
Phone: 715-787-3244